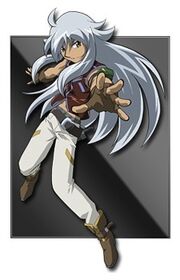 Luke is ridiculously calm in mid battle. Even if his bey Earth Eagle 145WD is in massive danger, Luke will hardly attempt to show fustration or any negative feeling however, he can still panic at times.
Personality
Edit
Luke is 95% of the time calm and also tells people to remember what they've said about him because they'll regret saying it. He can still get fustrated in battle but he hardly does
Luke uses Earth Eagle 145WD who soars into the sky and crushes opponents.